Companies with great products might have everything to offer, but without customers, the world will never know it. This is why 47% of small businesses focus on marketing as their primary growth factor. Before your company can grow and share its products or services with the world, you need to generate brand recognition and start turning leads into conversions. Fortunately, there are many popular methods that you can use to turn your brand into a household name. Let's take a look at five common strategies for increasing brand recognition and establishing credibility.
1.   Craft a Viral Marketing Campaign
Every single time you use a social media app, it is impossible to overlook the daily trends. Whether you frequent Twitter, Instagram, or Facebook, you will notice that something new is promoted every single day. The viral nature of social media makes it a great opportunity for businesses that can leverage this power for their own. Roughly 80% of digital businesses use viral marketing strategies in their marketing efforts. Creating a marketing campaign that appeals to online audiences and encourages sharing can help more people to learn about your company and convince them to choose your products and services.
2.   Use a Publicity Stunt
Publicity stunts are one of the earlier marketing strategies that still capture public attention on a regular basis. These strategies focus on doing something that catches a lot of attention in the public eye in order to get people talking. It might be an unexpected public performance or the launch of a shocking new limited-edition product. What matters is that everything about it is designed to make your company and what you are offering the center of attention. When used infrequently, these stunts can have a great impact on brand awareness. Exercise caution because publicity stunts have a history of backfiring.
3.   Connect with Local Customers
Now that so many of us spend our time living in a digital global network, we often overlook that many major brands start with a growing local audience. People love supporting local businesses, and word of mouth can build your brand a substantial following that can then expand to other places. Instead of targeting every potential customer, it can be beneficial to focus on targeting local customers and organically building a brand there. With time, a loyal local following can turn into a global following.
4.   Partner with Internet Personalities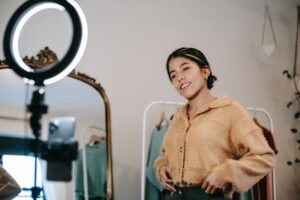 Ten years ago, celebrities were the people you saw in magazines. These days, celebrities are people with a substantial online presence. The celebrity endorsement approach has been an effective advertising tool for years, but it does look a little different now.
Instead of targeting A-list actors and musicians, brands can drastically expand their reach by partnering with people who have loyal followings online. From top podcasters to influencers on different social media channels, these internet celebrities can take you right to your audience. 55% of small businesses in the United States advertise on social media to reach their audiences, and internet celebrities play a big role.
5.   Distribute Press Releases
The average person reads news articles every week from established channels, and businesses can leverage this for their gain. BBC alone reports 650 million visits each month. A press release can easily be used to catch the interest of customers and share your brand with a global network of readers who are interested in what you have to offer. Following press release templates and press release examples, you can craft an eye-catching article–and the best press release services will even write them for you. While not every reader will be a guaranteed customer, the reach offered by press releases makes it easy for your brand to convince them to learn more.
Gain the Recognition Your Brand Deserves
You have put in the work to establish your brand and refine your products and services – now you just need a way to get in front of your target audience. Brander can help you share your business with the world by guaranteeing publishing on over 100+ news networks and affiliates within its 4,000 website network. We help companies to share their every victory and update with their audience to expand their reach and become a global brand. Explore our services today to learn how we can make your company a household name.