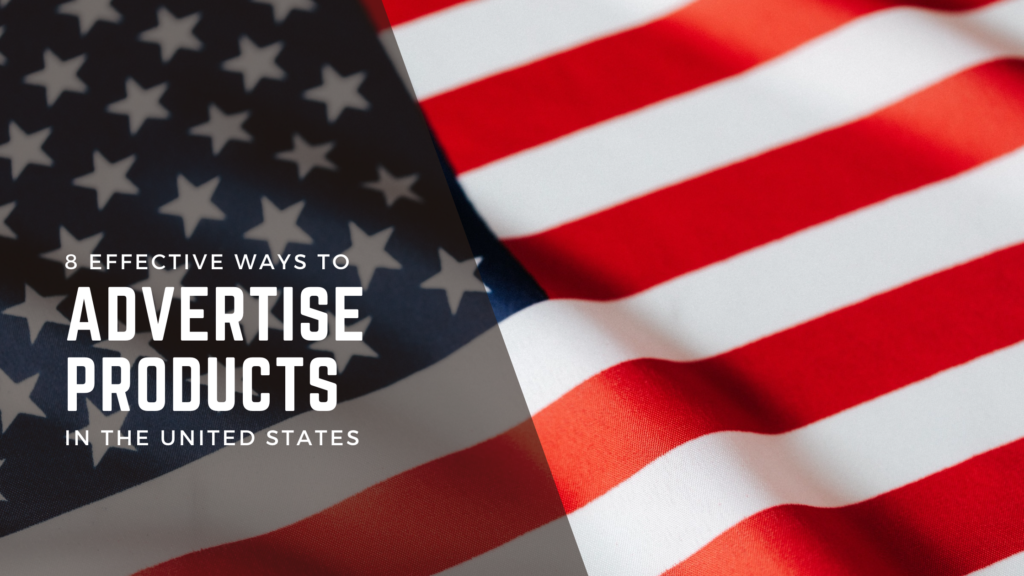 The United States has an incredible market with millions of customers who are just waiting for the right products and solutions to enhance their lives. Whether you are helping people to sleep better at night or pack a better lunch, you can only help them if you can reach them. Advertising is the key to expanding your reach with the U.S. market. In this article, we are going to look at effective advertising solutions to reach the modern American audience.
Advertising to the U.S. Market – Who Can Do It and How?
Advertising is a major industry worth more than $70 billion that helps companies to grow and reach their audiences one ad campaign, marketing campaign, and social media campaign at a time. If you are looking to advertise a product or multiple products to U.S. customers, you might be wondering if you can do it at all, and what limitations there are.
Whether your company is based in the United States or any other country, you can absolutely advertise to U.S. markets. In fact, many global companies focus on U.S. customers for one clear reason: there are so many of them.
With so many potential customers waiting, it is no surprise that countless brands are looking to reach U.S. consumers. If you want to get in front of them, there is no doubt that advertising is the correct solution. Using modern advertising methods, you can reach U.S. consumers in every industry!
Advertising Methods for Reaching a U.S. Audience
It is well-known that advertising has a special place in the United States. In fact, many popular advertising techniques and marketing strategies have started in the U.S. Understanding how these different advertising methods can help you to reach a U.S. audience will help you to make advertising decisions that connect you with the right people.
1.    Tailored SEO Strategies
It is nearly impossible to research modern marketing or advertising without running into conversations about search engine optimization (SEO). From an advertising perspective, SEO is crucial because it allows you to advertise by leveraging a tool everyone uses: search engines.
As opposed to ads, which work temporarily, SEO is an ongoing strategy that builds upon itself with time. You aren't paying for ad space—or paying at all if you write your own content—but rather carving out space for your brand online. Using content and strategy, you can advertise your brand by making sure it is what comes up when people look for something similar.
2.    Search Engine Ads
Everyone uses search engines, which is why search engine optimization has gotten so popular—but ads still work. Placing ads on keywords that target specific demographics and locations can help you to advertise directly to consumers as well. Even better, it places you right at the top of the search when people look for something. This paid option can be helpful for more traditional advertising. The average Google Ad costs $2 to $4 per click.
3.   Social Media Ads & Influencer Marketing
The internet wouldn't be the internet without social media, and the power of social media keeps on growing. Unless you are targeting a very small group of people, there is a good chance that your target audience spends time on social media. This means that social media ads can be great for getting you directly in front of them. If traditional ads aren't your style, you can connect with influencers who will advertise your products and services to their audiences for a fee.
4.    Dedicated Location Pages
When you want to target U.S. customers in a specific place, you can always do well with location pages. These dedicated pages allow you to target specific areas in the same way you target any other keyword. Ultimately, this makes it possible to speak to U.S. consumers in specific cities and even neighborhoods. You can really target smaller, specific audiences using this approach.
5.    Social Media Pages
Advertising on social media is great, but having a social media presence for your brand can be even better. Not only is running a social media page free, but it is also a great opportunity for authentic and engaging advertising. You can turn your social media into the ultimate advertising platform for your brand. Throughout the years, many brands have found success in operating engaging profiles that convince customers to choose them.
6.    Advertise Through U.S. Podcasts
Podcasts that are based in the United States or that have a primarily U.S.-based audience are a great advertising opportunity for reaching U.S. audiences. Since these shows will largely speak to this particular area, they can offer a direct portal to these audiences. Even better, they can help you to reach very specific audiences if you need to since many podcasts are focused on niche subjects.
7.    Traditional Advertising
Although digital marketing is the focus of most modern businesses, traditional advertising is still an effective tool. You can invest in print advertising opportunities in spaces all around the United States to target shoppers throughout the day, and you can use video advertisements to expand your reach even further. Local advertising helps you to target very specific audiences.
8.    Share Press Releases Through Press Release Services with Global Reach
Press releases are the modern business' opportunity to get in the news and get in front of a global audience, including readers in the United States. With press releases, you can throw out a very wide net that will attract audiences from all around the world. When you leverage news outlets that primarily focus on readers in the United States, you can reach plenty of U.S. consumers very quickly.
Reach a U.S. Audience Using Brander
Reaching U.S. shoppers is possible whether you are living in Boston or offering solutions from halfway around the world. At Brander, we help companies to reach their ideal audience through the use of innovative press releases and SEO solutions. Our platform can help you to expand your reach by sharing stories about your brand with major news networks and affiliates that have readers all around the world. Explore our solutions to find the perfect fit for your business.