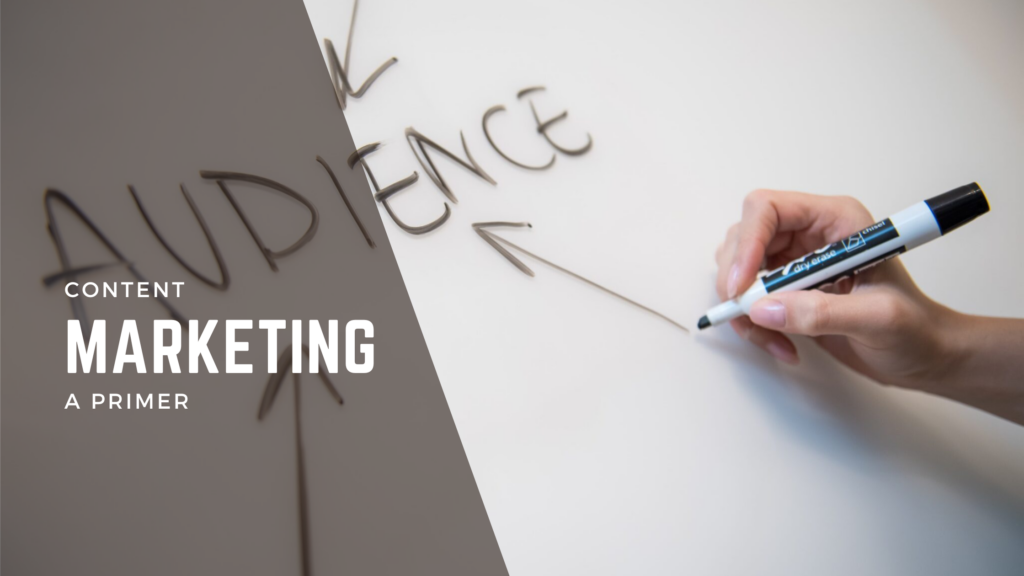 Building genuine connections with your client base can be challenging when there is so much noise competing for attention online. The extraordinary amount of information consumed enables them to make quick, logical, well-informed decisions. However, processing that much data runs the risk of overload, and people can quickly suffer from option fatigue. 
What is content marketing, and what does it do? Content marketing aims to attract, engage, and sustain an audience by creating and distributing timely content such as articles, videos, etc. As a result, it is easier to establish your brand's expertise, promote brand awareness, and keep your business top of mind when it is time to buy what you sell.
What Is Content Marketing?
Definition
Content marketing, as stated by the Content Marketing Institute, is a marketing strategy that focuses on producing and disseminating useful, timely, and consistent information to draw in and keep a specific audience and, eventually, encourage profitable consumer action. 
It also extends to press releases. For the best press releases price, you can check out Brander or ask a local public relations agency near you. 
A Brief History of Content Marketing
Comic book characters became potent content marketing in the 1980s. Companies like Marvel and DC produced comics based on action figures like Spiderman and G.I. Joe. For a generation of kids, the content helped bring the toys to life and create a strong attachment that endures today; as evidenced by the barrage of superhero movies.
LEGO is another toy company that has entered the content game. Their Brick Kicks magazine, which debuted in 1987 and featured product prices, comics, games, contests, modeling advice, and more, contributed to making the brand more approachable to consumers. But, of course, "The Lego Movie," released in 2014, was LEGO's most successful piece of content marketing.
In the 1990s, as personal computers and internet use spread, the landscape of content marketing underwent its most significant upheaval. Due to this, emails and websites were created, creating novel and exciting marketing prospects. As a result, many businesses switched their marketing budgets from TV and radio to online channels and email newsletters, or what is now known as digital marketing.
At a journalism conference in 1996, John F. Oppedahl came up with the phrase "content marketing." This gave a practice a label that had been used for hundreds of years and began what is now known as "modern" content marketing.
Brands then developed their websites where they posted information intended to increase brand loyalty and brand recognition. Finally, they promoted their information through email newsletters.
Functions of Content Marketing 
The functions and roles of content marketing are the following:
Educate

– Educational content follows a less emotional and more rational approach. In addition, educational content targets helping your audience in solving the problems that they currently struggle with. 

Entertain

– The emotional reaction that attention-grabbing and entertaining content elicits in viewers can pull at their heartstrings and inspire them to take action.

Inspire

– Inspiring content takes a more emotional approach. Inspiring content usually targets a general audience. 

Convince

– Why should we buy from your brand? Why should we support your business? These are the questions that persuasive content answers. In addition, compelling content, such as ads, provides your audiences the final push they require to convert to consumers.

Connect

– Do you foster a sense of community with your content? Your audience will feel a connection to your brand or product when you use social media to share knowledge, interests, and resources. It should be possible to connect with your material.
Benefits of Content Marketing:
Produces value for your target audience

– The material you produce and make available to your clients is helpful and conveys an important message to the right audience at the ideal time. It will surpass expectations, establish you as an expert on the subject, and benefit you and your audience.

Boost site traffic

– The content on your website makes you easier to find and more discoverable, especially for search engines like Google, which is a huge difficulty when trying to help consumers locate your business among the vast amount of information online. Like attention-grabbing content draws users to social media or email marketing efforts, relevant material increases website traffic.

Generates more leads and conversions

– A crucial part of a blog goal is producing many conversions. Conversions refer to a strategy where every visit to the site becomes a potential customer. A lead is a visitor to your blog or another content channel that fills out a form with some personal information. Knowing whether a lead is qualified is simpler when they qualify themselves through online actions. Even if you already have visitors to your site, you can turn them into leads by investing in content marketing, making your site attractive, and encouraging people to give helpful information that will help close a transaction. Additionally, your chances of closing a sale increase as you produce more leads.

Elevate the lifetime value of your client

– The total amount your customer spends with your business is the customer lifetime value (LTV). The more a customer purchases, the higher the customer LTV. Customers will stay on your site longer if you provide them with useful and relevant material. When people perceive that your brand continues to consider how to assist them in solving their problems even after they complete the purchase, customer loyalty ensues.

Reduces Customer Acquisition Cost

– Customer Acquisition Cost (CAC) is a measure that shows how much money is spent on marketing and sales to bring on a new customer. One content piece can reach many individuals, giving leads generated by content marketing a lower CAC.





In addition, most organic content is evergreen, meaning its informational substance will continue to deliver results for a very long time. As a result, the content gains value and becomes an asset for the organization. Therefore, beyond lowering CAC, content adds additional value to your company and helps your clients without requiring the efforts of your sales force, freeing it up to concentrate on a more individualized and assertive approach.
Boost your authority and credibility

– Content creation is essential to become a thought leader in your industry. In addition to aiding in developing trust, content may establish your brand as the leading authority on a given subject.
Forms of Content Marketing
Content Marketing Forms
The forms of content marketing fall under the following categories: 
Content curation

Opinion posts

White papers

Q & A's

E-books

Newsletters

Infographics

Slideshows

Online games

Quizzes and surveys

Mindmaps

Memes

Illustrations

Webinars

Behind-the-scenes pieces

How-tos

Free tools and downloads
How Content Marketing Works
How Does Content Marketing Work
Your company may utilize content marketing to draw in leads, convince potential customers to buy your product or service while shopping around, and complete transactions.
Deliver the appropriate content at each point of the sales cycle, from awareness through consideration to purchase. If this sounds challenging, relax – using this method to approach content makes things easier.
The stages for content marketing are:
Awareness Stage

– Your content should be centered on your audience's main issues throughout the initial stage of the sales process. Then, you have the highest probability of connecting with them through writing about their problems, obstacles, and inquiries. At the awareness level, the content should be instructional and educational. Finally, during the consideration and closing stages, the content should be sales-oriented.
Content medium for the awareness stage consists of newsletters, e-books, blog posts, articles, and blog posts.
Consideration Stage

– Content should provide a mix of useful information and marketing at the consideration stage. It should inform the reader about the qualities or capabilities to seek out and how different features cater to different needs. Naturally, your material should focus on how your company can help the customer.





Case studies, how-to articles, videos, checklists or worksheets are ideal for this stage.
Closing Stage

– Closing content is crucial when a potential customer is about to make a purchase. You can concentrate on sales at this point, emphasizing offers, incentives, and calls-to-action. Benefits and unique selling propositions of the product or service should be the main focus of your message.
Case studies, user-generated content, buyer's guides, product videos, and research reports are the best types of content for this stage.
How To Get Started With Content Marketing
To get started with content marketing, you need to follow a series of steps: 
Identify your audience

– You need to understand a certain reader's priorities, difficulties, and preferences to produce content for them. Pick 1 or 2 segments to write for if you have in-depth explanations of them. If not, create profiles of your audience and potential customers before beginning. These are called Ideal Customer Profiles (ICP) or Buyer Personas.

Determine the perfect format for your content and platform/s

– Knowing your ideal customer is important when determining the platforms on which you will publish content. Another crucial factor to consider is what formats best enable you to demonstrate value. This will be a video for some people and a checklist for others. Consider external resources to produce your material if an existing team member is new to the content marketing game. Regardless of who creates it, proofread the content internally. Cross all T's and dot all I's. Typos and grammatical errors suspend belief and dampen trust.

Distribution channels

– Will you publish the information on your website, send it by email, or publish a press release? Start with "where" you anticipate your active audience to be, then decide where to put the content. A buyer's guide is a useful follow-up to an email newsletter signup, share a checklist or worksheet on social media, and send a helpful email using an email sequence.

Choose a sustainable schedule

– Make a short-term (3-6 months) plan after identifying a target audience and the appropriate formats for each step in the sales cycle. A content marketing plan can easily become overly ambitious and complex. Your strategy should include content aspects you can produce, given your resources and budget. Keep track of how long it takes to produce each piece of content. Use the time data when forecasting future content production.

Observe the best practices

– Clear written communication and the absence of industry jargon characterize compelling material. The ideal piece of content is clear, brief, and actionable.
Better Publicity With Brander
Content marketing is a powerful tool for getting your business out there. Content marketing is a battle-tested method of promoting your material through social media and search engines. Content marketing is not as simple as creating the content. The content must be published and distributed to large numbers of readers. This is where Brander comes in.
Brander aims to disrupt intermediaries' stranglehold between business and media. Brander aims to help the average business spread the word about a great product, service, partnership, or newsworthy event to the marketplace. Our professional copywriters are also knowledgeable in SEO best practices and produce press releases packed with relevant content, keywords, and links to your brand or company's website. Thanks to Brander, publicity has never been easier. Learn more about us now!