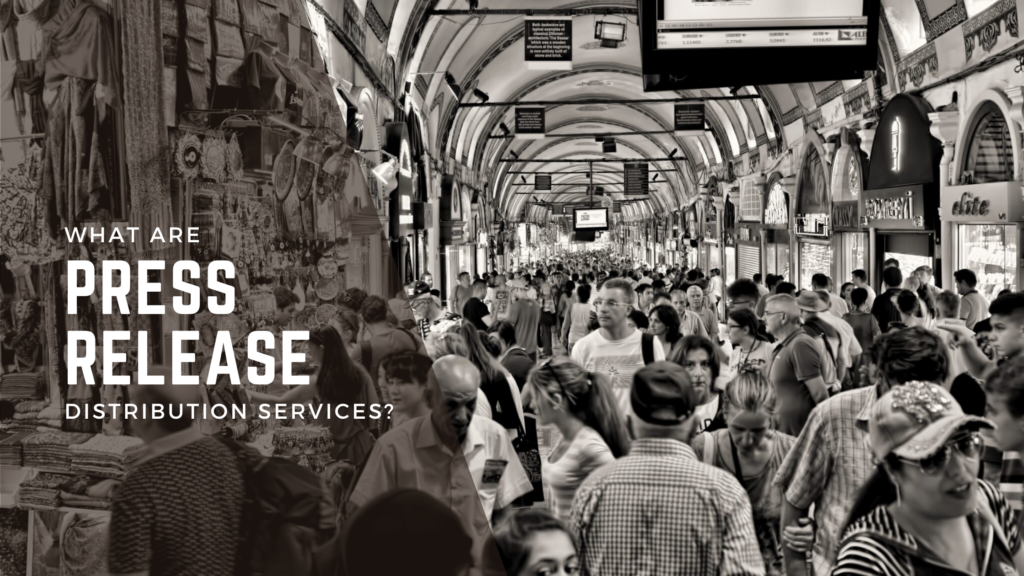 For as long as news and media have been in print, press releases have been used to capture customer attention and increase brand awareness. These valuable public statements allow businesses to share newsworthy achievements and changes in business with the world with press release distribution services. Although press release writing used to take time to share, now a single release can be distributed to millions of people within a matter of days. In this article, we will discuss press release services and the value that they offer companies.
Press Releases: Place Your Name in the Spotlight
Companies want to demonstrate their value to the public, and this often comes down to sharing the right information in the right places. This is the focus of the public relations industry, which is valued at over 50.1 billion in the United States alone and expected to reach $129 billion globally by 2025.
A company that wants to create a positive public image will focus on exciting new developments, like key hires, new product launches, mergers and acquisitions, and partnerships, to customers. However, companies might also decide to share press releases that appeal to stakeholders, like announcing company growth, increasing revenue, or case studies that demonstrate clear business value.
With each new update, brands have the ability to find more customers and appeal to more investors. A brand featured in the news has the capacity to get in front of the right people.
What is Press Release Distribution?
Press release distribution is the act of distributing press release to news networks and established news channels. Any company can write a press release, and they might even share it on their own website or social media platforms. However, a press release on a website is not nearly as effective as a press release that is shared through relevant news networks. Free press release distribution is simply not as effective since it generally lacks reach. More often than not, people will click on a new update because of the publication, not just the content.
What is a Press Release Distribution Service?
A press release distribution service is a company that specializes in sharing content with relevant and established media channels. The best press release distribution services leverage established connections to be able to place content through prominent news sites and other related media channels that will benefit the company being represented.
Press release distribution services have the ability to take a press release and share it with the masses on a very short timeline. You can start your week by sharing the updates for the press release and end your week with your company spotlighted on your favorite news channel. This is achieved because press release distributors know what these publications expect and carry their own credibility when pitching content to these media channels. Distribution methods may vary depending on the industry, but the goal is to share your press releases in spaces where potential customers are already reading.
What Benefits Do Press Release Distribution Services Offer?
Throughout history, companies have worked to share their stories in prominent spaces. Since the average person spends 129 minutes each day reading press media, sharing content on dedicated news platforms can come with many benefits. Let's discuss some of the more prominent benefits available.
Access to Established News Channels
The internet is a space that is always changing, and within that space, certain publications have more credibility. Although a business can often easily partner with an independent news network or small publication, these avenues do not offer the same level of reach. Free press release distribution on small platforms is often less effective because it offers a smaller reach.
Sharing your business victories on a prominent news platform can offer a great boost to your brand's credibility. The average person prefers to read content that is shared by brands that they trust, which is why established news channels are so important.
Loyal readers consume more than five times the amount of media content compared to non-loyal readers, making it important to be in the right places. When someone sees your company in a major publication, they automatically associate it with more value. The average business would struggle to get its brand featured on known news networks, but a press release distribution service can offer that access with ease.
Media that Paints Your Brand Correctly
When written correctly, press release writing is relatively neutral with a positive focus. These releases are designed to be written by a third-party representative and will reflect that in writing. With this presentation, the content seems less like an advertisement and more like an inside look at a growing company.
Press releases can be used individually and collectively to cultivate a clear brand image in the public eye. It gives companies the power to determine what they are known for and how that information is conveyed to their audience. USC Annenberg School for Communications and Journalism determined that 88% of digital PR professionals believe that digital storytelling is the primary future for communications. These articles offer a great deal of brand control every time you make the decision to publish them.
Expansive Reach to Millions of Potential Customers
Established news channels offer access to tens of millions of readers per day. There is quite a bit of potential in being able to place your company in front of that many people. With the best press release services, your in-house announcement can quickly become a public affair in a positive way.
When a press release is shared on a major distribution channel, it does not mean that every single reader will see you read your press release. However, it does drastically increase your potential reach. This is comparable to impressions and interactions with ads and social media posts. Established news channels make it easy for you to be seen by a much larger volume of people, which in turn makes it more likely that more people will read your press release and take action from it.
Choosing Brander for Press Release Distribution Services
In order for a press release to be successful, companies must prioritize getting them released in the right places. The fact is that not all press release distribution services offer the same level of reach to their customers – but the best press release distribution services offer substantial reach.
When you partner with Brander, you are guaranteed access to a minimum of 100+ established news networks and affiliates to ensure that your press release is seen by as many people as possible. Whether you have drafted a press release of your own or want to partner with our experts to create a captivating press release that is designed to attract potential customers, we are happy to help you share your victories with your customers.