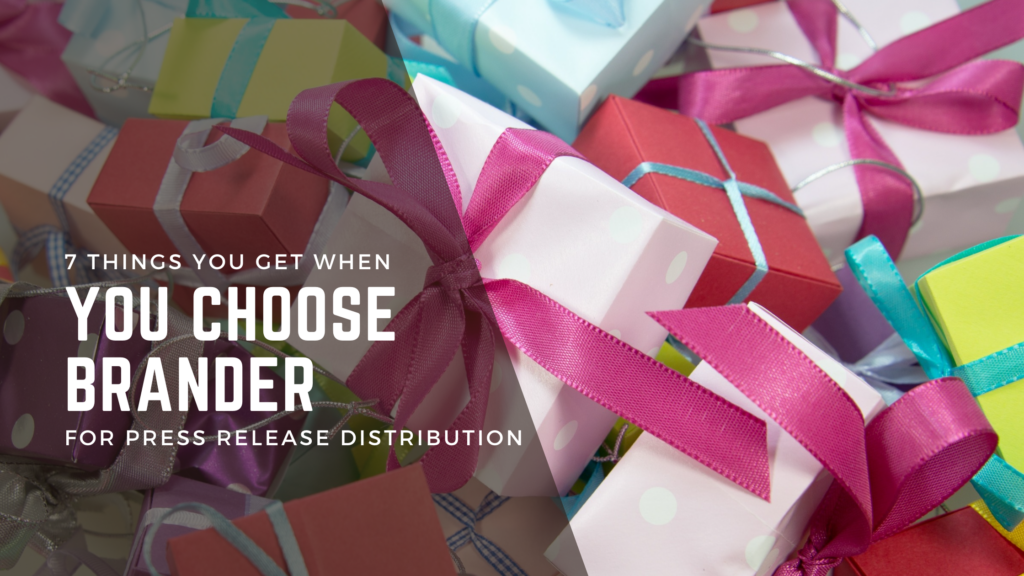 Successful press release distribution doesn't happen by accident. It is a combination of industry knowledge, quality content, and the right connections. At Brander, we help companies to grow their reach and share their messages using press releases and our expansive list of distribution channels. In this article, we are going to break down what you get when you choose to work with Brander for press release distribution.
What is Brander?
Brander is a press release distribution service that helps brands to connect with their audiences through major publications. We write and distribute press releases on behalf of our customers to help them grow their brand credibility through professional publications online. With every press release, we empower our customers to establish their domain authority and share their updates with a growing audience.
Exclusive Brander Benefits We Offer Our Customers
Every time you partner with Brander, you gain access to an exclusive list of benefits that we only offer our customers. Whether you publish with us once or we distribute press releases for you on a weekly basis, you can look forward to these exciting perks every single time you work with us.
Access to 3,900+ Publishing Partners
Brander has extensive reach with major and minor publishing partners that distribute content to millions of people worldwide. Our press release distribution services give you access to 115+ TV affiliate sites and 3,900+ major news networks and affiliates. Every press release is guaranteed to be featured on over 100 news websites, while our reach extends well into the thousands.
Powerful Press Releases
Although anyone can write a press release, there is more to press release writing than meets the eye. While you might think that a press release is more of a statement than anything, the real work happens underneath the surface. Our experts know how to meet the right requirements and convey information in a way that has a lasting impact.
Choosing Brander for press release writing is about more than convenience. We offer professionally-written press releases that reach the highest standards of modern press release writing and adapt to the public interest. Our content always sounds great, but it is also written to generate leads and increase the likelihood of conversions.
Improved Domain Authority
Domain authority is a rank given to websites that determine the relevancy of that website in reference to its niche and industry. The higher your score is, the more effectively you are performing—and there are a lot of benefits to this.
A website with a high domain authority is more likely to be referenced and more likely to pop up when people are looking for anything that you cover. Almost all digital marketing efforts are aimed at improving this score in relation to competitors, and our extensive reach can help you to make a noticeable change in your domain authority.
The score you have for your domain authority is actually directly related to backlinks. To have a high score, you want to have prominent and high-ranking websites link back to your website. When major news publications refer to your website, it does wonders for your performance. The better the websites that reference you are, the higher your domain authority will be.
The "As Seen On…" Badge
For decades, brands have been using the "as seen on…" badge to highlight their public relevancy. Previously, advertisers would often focus on TV channels for this, and you can too with our services. However, modern versions of these badges tend to focus on prominent news networks.
When Brander publishes press releases for you to these major publications, you instantly get these badges. You can present them on your products, advertisements, and websites to show potential customers that you have been covered by these major publications. It is a great and immediate way to establish brand credibility.
Results in a Week or Less
In the modern world, we want results immediately. Distributing your content to thousands of major publications isn't something that we can just do with a click of a button, but that doesn't mean that we want you waiting for weeks on end, either.
When you partner with us, we guarantee results in a week or less after we finalize your press release. Within one week, you will be able to see your company's name in lights—or at least on top news networks and affiliate websites!
Affordable Pricing
When it comes to press releases and press release distribution, there is a huge variety in pricing. Press release distribution services like PR Newswire pricing can cost you over $1,600 per press release in some cases, and we know that isn't realistic for the majority of business owners.
At Brander, we believe in helping brands support their growth, so they can reach their target audience and drive up sales. We are happy to help businesses of all sizes do this by offering affordable pricing that can help you to get great results without paying impossible amounts of money each month. To learn more, you can explore our packages and find out which one is right for you.
Curated Newsletters
Bringing value to our customers is our biggest focus, and we are happy to help you beyond simply managing your press releases. Our regular newsletter offers key insights into both public relations and marketing, so you can grow your business in every way possible.
With our dedicated newsletter, you can learn how to grow your brand and generate new leads using industry-proven methods. We help you to better understand key marketing and PR strategies, allowing you to empower other aspects of your branding too!
The Takeaway
Press releases can completely change the way that your company is perceived by the public. With our dedicated press release services, we are proud to help you share the right information at the right time, and with the right people. To learn more about how we can help you to share relevant updates with your audience, contact us today.