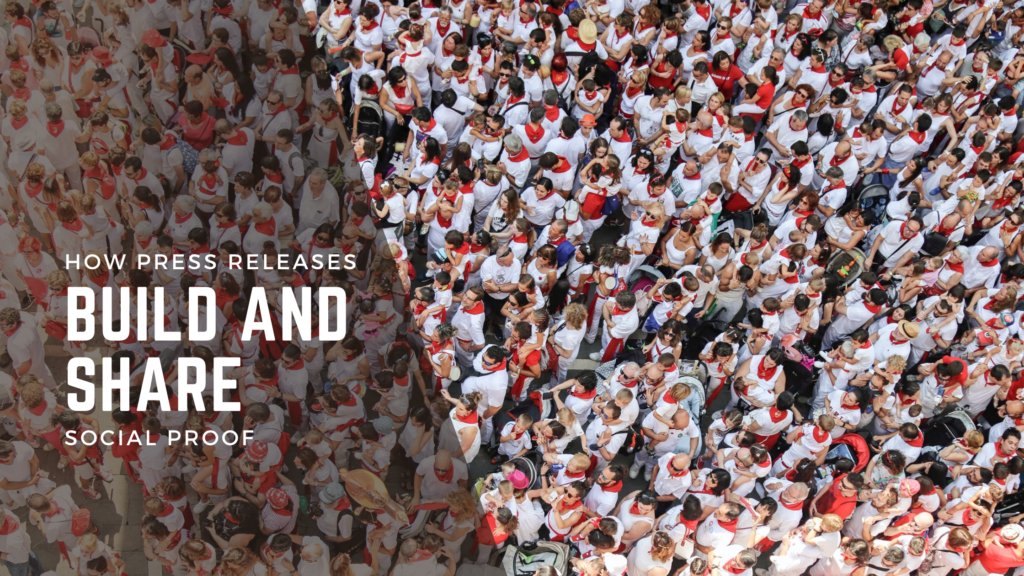 Making a great product or coming up with an amazing service is the start of any business, but to be able to share these creations, you need reach and credibility. In a world where anyone can start a business and start selling online, the need to establish trust with customers is more important than ever. Press releases can be an effective tool when establishing social proof to drive sales. In this article, we are going to explore social proof and how press releases help you to create it.
What is Social Proof in Business?
Social proof is visible evidence that your brand offers high-quality products and services. It is proof that your company is a qualified business that is meeting and exceeding customer expectations by offering exceptional quality. Essentially, it is a clear track record of proven success and happy customers, but with press releases, we can actually take social proof much further.
By using press releases, companies can establish social proof and improve the overall credibility of their businesses. A published press release in the right publication can demonstrate the quality of your brand and help potential customers to see you as a growing industry presence. Sharing the right information using the right mediums will build social proof with ease.
Why Does Social Proof Matter for Businesses?
Social proof matters for businesses because it shows customers that your brand is worth investing in. Nobody wants to partner with a brand when they can't really guarantee what they are going to receive. We live in an age where 70% of people trust recommendations from strangers, which shows that presence is really what matters. Customers are used to having access to information about brands, and when there is a lack of information, they notice.
Creating social proof can have a huge impact on generating leads and increasing conversions. It allows customers to see your value, making it much easier for them to take a chance on your products and services. The more social proof a company has, the more likely they are to grow and generate revenue.
Building Social Proof for Your Brand Using Press Releases
Press releases offer the perfect opportunity for brands to connect with their customers. However, they can also be used to effectively create social proof. In fact, this benefit starts from the moment you publish your first press release, so you can start establishing social proof on day one. It is possible to grow your social proof using press release writing using the following considerations.
Sharing Fresh, Relevant Information
An effective press release is always going to include fresh and relevant information that will convince your audience of your company's trustworthiness. Using recent developments is always the best approach, as it allows potential customers to see a clear timeline of consistent, recent company developments.
Offering potential customers a chance to see relevant information can help them to understand what your brand offers. More importantly, it creates a clear image of your company's improvements and success. When potential customers see major business developments coming from your brand, they see that the brand is genuine, established in the public record, and transparent.
Creating a Professional Presence
Press releases help brands to establish a professional presence in two different ways: presentation and development.
The presentation of a press release comes down to effective press release writing. When potential customers can see a crisp and well-written public statement about a company, it creates a positive association with professionalism. This is why 55% of successful content marketing strategies prioritize increasing content quality. People will see your brand as a professional, quality company.
The development aspect of establishing a professional presence comes down to the strategy behind your press releases. Press releases should have a clear goal of improving the presence of your business, and that means sharing the right details and advancements. Business success is measured differently at every company, but publishing key milestones demonstrates business growth and a path to success. It shows them you mean business.
Publishing in the Right Places
With press releases, a lot of the power comes from being in the right publications. When establishing social proof, you want to be associated with other high-quality brands. While partnerships and acquisitions can be great for this, simply publishing in the right places can have a large impact.
We often see the benefits of this with the "As Seen On…" badges that companies commonly place on products and websites. If an article about your brand is shared in a major publication, it automatically helps you to establish credibility. When your customers find out you were featured on ABC, CBS, NBC, or USA Today, they will automatically read into that information. It shows that you are not ano unknown brand, but rather a growing force in the marketplace.
Using Relevant Data and Facts
The information you choose to share in your company's press releases is important, but it is also important to focus on how you present it. Sharing dedicated facts and relevant data can help your reader to better understand your message.
When you use data from the industry and your company, you establish social proof simply by being transparent. There is a lot of power in sharing the right numbers. Simply stating important facts and using numbers to back them up can demonstrate expertise. Even better, the numbers you choose can be used to give further credibility to your claims.
Give an Inside Look Using Quotes
Social proof is about establishing trust, and nothing establishes brand trust quite like an effective quote. With quotes, you can allow your customers to hear from business leaders in your company, helping them to see that the company is in qualified hands.
Creating a sense of professionalism is important, but quotes can also be used to create a more relatable type of social proof. When potential customers see business leaders from a company share innovative opinions or important details, it helps them to trust these individuals on a more personal level. People want to work with brands that share their values, and this can help to establish those connections.
The Takeaway
Social proof is the difference between someone seeing your company as a risk or as the obvious choice. Your customers want to work with a company in your industry that is modern, innovative, and credible. With press releases, you can use news networks and other media platforms to share your message far and wide. Even better, creating social proof starts on day one and continues to grow as you continue to publish.
At Brander, we specialize in writing press releases and distributing them to more than 100 major news networks and affiliates. We help you to create social proof that suspends disbelief, so your brand can bring in more sales and establish trust with the public. To learn how to grow your social proof and improve your brand reputation, connect with us today.