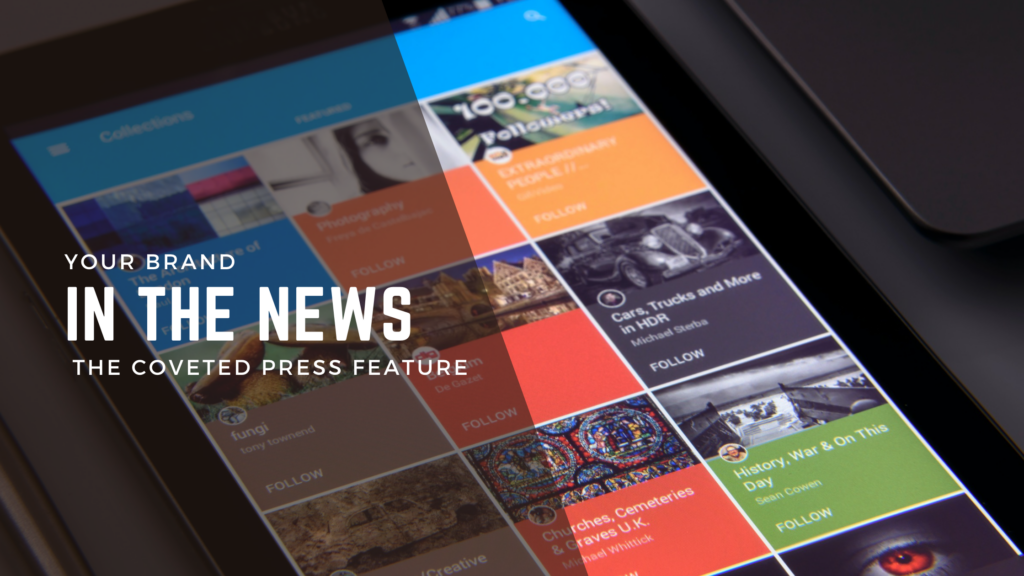 Taking your perfect product or service to market is an exciting opportunity, but it gets a lot more exciting when your ideal customers can actually find you. If you are starting or growing a brand, there is a good chance that you want to have the opportunity to get it in front of as many people as possible.
Marketing gurus offer plenty of tips and tricks for getting your brand's name out there, but the tried and true methods are usually more reliable; like being featured in the news. You have made something exceptional and want to share it with the world. Getting your brand featured in the news can make it happen.
Let's explore the right way to get your brand in the news.
What Does it Mean to Have Your Brand Featured in the News?
Having your brand featured in the news means seeing your company mentioned in an article on the news. In most cases, the article will be presented in written forms through print and digital press releases. However, it can also mean being mentioned on news streams or radio stations too. All that it means is that your company is being covered in the news.
Why You Should Feature Your Brand in the News
Aside from the excitement of seeing your company mentioned on a major news website, there are quite a few practical reasons that you might want to get your brand featured. A good article on the right platform can come with a lot of perks that business owners love.
Find Potential Customers
First and foremost, your company being featured in the news has massive potential to attract new customers. If someone is reading the news and comes across a great feature focused on your brand, there is a chance that they will want to learn more. An article in the news is great for lead generation.
Connect with Potential Investors
Investors are powerful financial backers that can take small companies and help them to scale quickly. Depending on your industry, access to investors might determine whether or not your business makes it to the next level. Fortunately, investors often read the news and keep a tab on trends in industries that they are interested in. Being featured might just put you in front of them.
Show Your Brand's History
One press feature has many benefits, but press features become even more helpful when they are combined. You can show off your victories and highlight key accomplishments in news articles on your brand. When people look you up online, they will see just how great your brand is.
Highlight Your Brand's Journey
A feature in the news is a great way to share your brand's journey in a way that makes it all seem larger than life. Even small companies can seem like a huge deal when presented in the correct light through a major news network. People will be interested in what you have to share, and you can give them details that make them want to learn more. Tell them your story in style and on your terms.
Own Your Name
Many business owners are surprised to find that looking up their brand's name on a search engine can turn up different results. You would expect that a search engine would automatically pull up your website or company when you look it up, but search engines are tricky. Fortunately, a news article on a major platform can fix this problem almost instantly.
When people look you up, they will see the articles available on your brand. Even better, the backlinks will help your website earn its place online, giving you a higher likelihood of showing up when people look for you.
Getting Your Brand Featured: Common Questions
You want to see your brand in the news, but you might have a few questions about what that actually looks like. Let's discuss some of the more common questions business owners have about being featured in the news.
Can Any Brand Be Featured?
While any brand can be featured in the news if a journalist writes an article on them, only certain types of brands can publish to news networks themselves. Most brands are able to submit releases through third-party press release distribution services, but there are some topics that are often rejected.
Commonly Restricted Topics Include:
Adult/explicit content
Vaping and Smoking
Pharmaceuticals
Firearms
Loans
Gambling
Health Supplements
Weight Loss
How Can You Get Your Brand Featured with Major News Networks?
Brands are featured in the news in one of two ways – press coverage and press release distribution services.
Journalists are writers who contribute to major news networks with their stories. Most platforms have their own journalists or freelance journalists that they regularly work with. If these individuals decide to write about your brand, it will be featured in the news as long as the article is accepted.
Press release distribution services are a way for everyday companies to connect with major news networks and affiliates. These services allow you to publish press releases about your brand and its contributions to the industry. When you use a high-quality service, your press release will be shared across hundreds or even thousands of platforms to maximize reach.
Are Press Release Distribution Services Effective?
Even ten years ago, business owners struggled with reach. Modern technology, however, has mostly fixed this problem, and press release distribution services are one key example of a solution. These services can place your company in front of a global audience with millions of readers. When they have good reach, they are very effective.
What Are the Requirements for Press Releases?
Press release requirements vary depending on what networks you want to publish with. However, press releases should always be neutral, written in the third person, and shorter than 500 words.
What News Networks Accept Press Releases?
There are a lot of news networks that publish press releases every single day and you probably know most of them by name. ABC, CBS, NBC, USA Today, FOX, and more publish press releases. While not every network accepts every release, many of them will happily publish a well-written press releases that align with their objectives.
Getting Started with Press Release Services
Placing your brand in front of millions of readers might sound complicated, but it really isn't. You can get your brand featured in the news using these simple steps and a press release service.
Create Your Press Release
In order to land a coveted spot on a major news platform, you will need a press release that meets their standards. You can always craft your own press release for submission by copying the style of press release examples. Choose a topic that shares information about your business and celebrates your brand's accomplishments, and then write to the standards we outlined previously.
Not everyone is a writer, and not every writer knows how to write press releases either. Fortunately, you can hire press release writers and use writers from press release distribution services to have a press release written for your company on a topic of your choice.
Sign Up for Brander
Brander is a press release distribution service that offers placement with over 100 major news networks and affiliates. We offer three different packages depending on your needs, making it easy for you to get your press release drafted and submitted in no time at all.
Wait for Your Feature to Go Live
Press release submissions are not like hitting a button to launch. After your press release is submitted, edited, and approved by you, there will be a brief waiting period before your press release goes live. The press release will be proofread at least twice before it is distributed. Every network will accept releases at different rates, so you may see some news coverage from specific networks before others. Most press releases go live a day or two.
Celebrate Your Success
After your feature goes live, it is time to celebrate. Share your news articles on all of your social media platforms, show them off to your friends and colleagues. Leverage the full benefit of being mentioned in the major press outlets, be sure to add the "As Seen On…" badge to your website and marketing materials.
Build the Habit
A single press release is a great place to start, but continuous press releases are where the magic really happens. Every time you have something new to share about your business, be sure to get a press release drafted and submitted. Building a public track record tells the market that your business is active, growing, thriving, and worth paying attention to.
Choose Brander for Access to Top New Networks and Affiliates
Your business is newsworthy, and we know how to get you in front of a global audience. When you partner with Brander, you gain access to major news networks and affiliates, like ABC, CBS, NBC, USA Today, Bloomberg, and more. Explore our services today to learn how we can get your brand featured in all the places that matter. We look forward to helping you share your story.